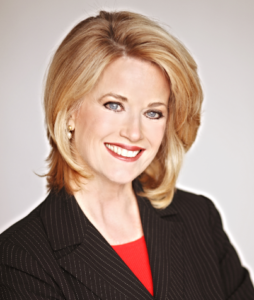 Jane Robelot is a nationally acclaimed television news correspondent and anchor.  While the highlight of her personal life is her son George, faith, family, Clemson and Greenville; the highlight of her professional life was anchoring for CBS News from 1995 through 1999.  She was co-anchor of "CBS Morning News", and later anchor of "CBS This Morning".  While at CBS News in New York, Jane won two national Emmy awards for journalistic excellence, and a national Emmy nomination.  She covered some of the most important events of that time, including the Oklahoma City bombing, the death of Princess Diana and Pope John Paul II's historic visit to Cuba.
Jane is now back in her hometown of Greenville, South Carolina.  She and  her husband, Mario DeCarvalho, have started their own production company, Carolina Zoom Productions.  Jane is also a contributing reporter for WYFF-TV in Greenville. Clemson University gave Jane a great start in media, though she earned her degree in Economics in 1982.  In addition to her many jobs reporting, anchoring, consulting and hosting, Jane is the co-host for the Christian radio and television ministry of Dr.  Michael Youssef, "Leading The Way", out of Atlanta, Georgia.
Mario DeCarvalho served for 31 years as a staff cameraman with CBS News ( 1976 – 2007 ), covering most of the major World events, from wars to Papal trips, hurricanes to mudslides, presidential campaigns to Winter Olympics, from dictators to democratically elected leaders, royal weddings to riots, traveling to 124 countries, being based in 4 foreign  bureaus ( Germany, Lebanon, Egypt and Israel ) and 3 domestic bureaus ( Miami, New York and Atlanta ).  As it relates to news in the Middle-East today, Mario has covered countries behind the Iron Curtain, the civil war in Lebanon, the Middle East Peace process, the Iranian revolution and Khomeini's return, the Iran- Iraq war, the West Bank and Gaza among many others. Mario was one of only a handful of journalists, who arrived before Hurricane Katrina hit and stayed in downtown New Orleans throughout the entire ordeal … quite interesting and challenging, to say the least.   Mario is a SF combat veteran (Africa 72-74 ) and currently serve as a Chief Warrant Officer with the Georgia State Defense Forces ( GSDF).   In February 2003, he was embedded with the 1stBrigade Combat Team / 3rd Infantry Division, the tip of the spear of the US Military from Kuwait to Baghdad, reporting for all the CBS broadcasts.  As if that is not enough, Mario is fluent in 8 languages: English, Arabic, Hebrew, Spanish, Portuguese, French (including Creole), German, and Italian.