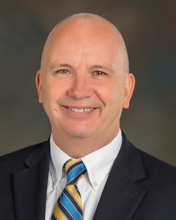 Alex Garvey, Ph.D.
Senior Vice President, Mission
Bon Secours St. Francis Health System
Alex Garvey, Ph.D. joined Bon Secours Francis in 2016 as Senior Vice President of Mission. Alex was born in Cork, Ireland, at one of our Bon Secours sister hospitals, and speaks Gaelic and English. He comes to us after serving as Vice President of Mission and Ethics for Bon Secours Hampton Roads as well as the Mission leader for Bon Secours Maryview Medical Center, Harbour View, Maryview Nursing Care Center, and Province Place of Maryview. He earned his Master of Arts degree in Practical Theology from Barry University and his Doctoral degree in Ethics from Duquesne University. Alex oversees the Spiritual Care team, Healthy Community Initiatives, Human Trafficking Initiatives, and leads the Ethics program. Alex enjoys spending family time with his wife and son, and meeting the friendly people of South Carolina.