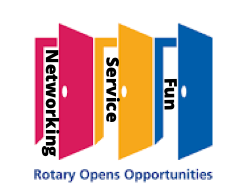 Now more than ever, our community and our world need Rotary.
Our club has a century old tradition of professional business networking, serving our community and enjoying each other's fellowship.  This year, that translates to Networking, Service and Fun!
The current pandemic has indeed changed the way we do Rotary but not why we do Rotary.  Rotary's commitment to offering our members the opportunity to enlarge their business circle and to support their fellow Rotarians in their business endeavors is a win/win for all of us.
Networking in our club is composed of our two monthly meetings where dynamic speakers lead discussions about community concerns and interest from across the spectrum.  These meetings are the core of our networking, but we also offer smaller group discussions with Lunchtime Conversations and Networking at Noon.  Lunchtime Conversations is an opportunity for us to learn to discuss difficult topics in a guided conversation format that is part of Rotary's Peace and Conflict Resolution commitment.
Networking at Noon offers our members the chance to share their business/organizations information with our members and vice versa.  Discussions center around current strategies and successes in today's world.
Service is the heart of Rotary.  This year we will offer at least one service project per month.  Usually, this will be a part of our many ongoing service opportunities.  Our club donates numerous hours and significant funds to support students and faculty at Alexander Elementary School, mentoring with Greenville Literacy Association, recognizing Teachers of the Year and Law Enforcement Officers of the Year, offering Career Day, selecting our Service above Self Scholar, cleaning Rotary Park, and supporting International Projects like clean water in Honduras and goat ownership in Haiti.  We are People of Action and want you to be a part of this great work!
Fun is my favorite part.  We all enjoy working hard together and then relaxing and getting to know our fellow Rotarians better.  Twice this year we will be having a club social in lieu of our regular meeting.  Plus, we have implemented a monthly social hour just for our club, Plane Jane's Place.  We continue to have the multi-club social Health and Happiness.
Greenville Rotary will continue to make an impact on our community through Networking, Service and Fun!  Make sure you join your fellow Rotarians in all of our endeavors. Now, more than ever, our friends and colleagues are looking for what Rotary has to offer.  Invite them to a meeting or event, or the better still, invite them to learn more about our club at Discover Rotary.
Yes, we are doing things differently during the Pandemic, but we are more determined than ever to keep our century old tradition of professional business networking, serving our community and enjoying each other's fellowship alive and vibrant.
Join us!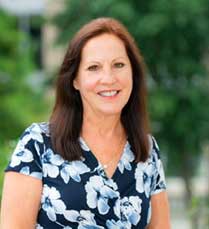 Jane Dyer,
President