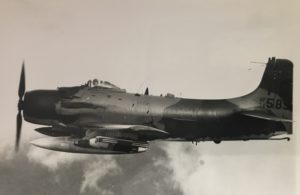 On April 21, 1969, John Dyer was shot down during a Search and Rescue mission over Laos during the Vietnam War. Technically, America was not supposed to be in Laos, so when downed pilots were captured, they were typically shot instead of becoming prisoners of war.
On May 28th, John will share the details of his amazing experience as an Air Force pilot and this fateful flight in particular. A pilot with over 20,000 flight hours, John served two tours in Vietnam. He amassed over 300 combat missions and 1040 combat hours in the A-1 Skyraider and A-7 Corsair II.
As we approach Memorial Day, remembering those who lost their lives serving our country, join us as we hear the harrowing experience of one who narrowly survived and who continuously remembers and honors those who paid the ultimate sacrifice.