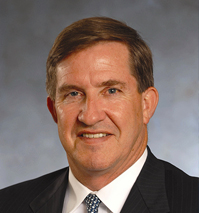 HUGH E. WEATHERS
Commissioner,
South Carolina Department of Agriculture
Hugh E. Weathers has been serving as South Carolina's Commissioner of Agriculture since September 2004. Under Commissioner Weathers' tenure, the Department has created several new branding programs under the Certified SC Grown umbrella to assist consumers in easily identifying and purchasing local South Carolina products. The State Farmers Market has been relocated to a new state of the art facility in West Columbia in Lexington County. The campus includes a new multi-purpose auditorium, the T. Ashton Phillips Conference Center.
Commissioner Weathers was born in Bowman, South Carolina and is a fourth generation dairy farmer. He graduated magna cum laude from the University of South Carolina in 1978, earning BS Degrees in Accounting and Finance. He is a partner in the family's 80-year old dairy business and row crop farm. He and his brother, Landy, also operate a bulk milk delivery business for thirty other South Carolina farmers.
The Commissioner serves on numerous local, state, and national agricultural, business, economic development, and banking committees and boards. In 2011, he was inducted into the South Carolina Dairy Hall of Fame and has received numerous other awards and recognitions both prior to taking office and as a public servant for the citizens of South Carolina.