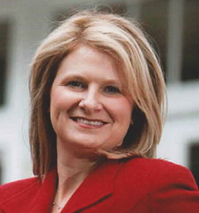 Representative Jenny A. Horne
South Carolina House of Representatives
for House District 94
Jenny A. Horne is serving her fourth term in the South Carolina House of Representative of House District 94 in Dorchester and Charleston Counties. She serves on the Judiciary Committee where she chairs the Special Laws Subcommittee. In 2013, Rep. Horne was elected by her peers to serve on the House Ethics Committee.
Representative Horne is the owner of the Jenny Horne Law Firm, LLC in Summerville where she practices in the areas of real estate, family law, employment law, and general litigation. She is a 1994 graduate of the University of South Carolina Honors College and a 1997 graduate of the USC School of Law. After graduation, she clerked for federal trial Judge Margaret Beane Seymour.
Representative Horne has been named Legislator of the Year by the YMCA, Charleston Trident Homebuilders Assoc., and the Association of personal care providers. Recently, Representative Horne received the Bert Cicenia award from Lowcountry Children's Center for her advocacy on behalf of children. She has received the Charleston Regional Business Journal's Forty Under 40.