Nikki Haley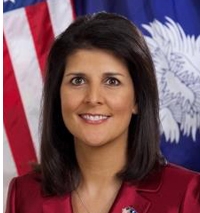 Governor of South Carolina
Nikki Randhawa Haley was elected the 116th Governor of South Carolina on Tuesday, November 2, 2010.
Born in Bamberg, S.C., the daughter of Indian immigrants, Governor Haley's first job was keeping the books for her family's clothing store – at the age of 13. She graduated from Clemson University with a bachelor of science degree in accounting and, following her graduation, worked as Accounting Supervisor for a private company and five of its subsidiaries. She then returned to the family business and helped oversee its growth into a multi-million dollar operation.
First elected to the General Assembly in 2004, her time in Columbia has been marked by conservative leadership and an unwavering commitment to protecting the taxpayer. For her efforts to cut taxes and slow the growth of government spending, Governor Haley was named "Friend of the Taxpayer" by the S.C. Association of Taxpayers in 2011. She received the 2011 State Leadership Award from the United States Chamber of Commerce.
From the start of her administration, Governor Haley has focused on creating jobs and improving the business climate in South Carolina. Other states now look to South Carolina as an example for how to recruit new businesses while taking care of the businesses they already have. Governor Haley has been proud to announce over 43,000 new jobs created and over $9.9 billion invested in South Carolina. While job creation is her main focus, she has also fought for good government reforms.