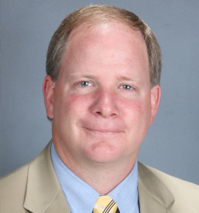 THAD TURNIPSEED
Director of Recruiting and External Affairs
Clemson University
Thad Turnipseed is in his first year as director of recruiting & external affairs. Turnipseed works closely with Dabo Swinney, Jeff Scott, and the rest of the staff in terms of the organization of all recruiting activities.
Turnipseed came to Clemson after spending the previous 11 years at Alabama, where he started as director of capital projects, designing and overseeing over $200 million in athletic projects. Some of these projects included two endzone expansions and a $40 million in improvement to the football facility. He ended his career at Alabama as the associate athletic director for special projects while serving as Head Coach Nick Saban's director of football external affairs.
Turnipseed earned a B.A. degree from Alabama in political science in 1995, with a double minor in geology and general business. He was a member of the football team from 1990-92 and became a student assistant from 1993-95 after an injury. He and Swinney were both members of Alabama's 1992 National Championship team.
Prior to joining the staff at Alabama, Turnipseed was a project manager at Beaver Construction from 1995-97 as well as owner of Calvary Construction and Calvary Flooring from 1997-03. Turnipseed is married to the former Melissa Nix. The couple has three daughters, Mallory, Marian, and Marlee, and a son, Lee.