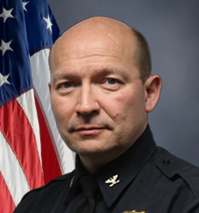 CELEBRATE LAW ENFORCEMENT DAY ON FEBRUARY 10
SPEAKER-CHIEF OF POLICE,
KEN MILLER – GREENVILLE POLICE DEPARTMENT
Who will discuss his plans for the future of law enforcement in Greenville
Ken Miller joined the Greenville Police Department as Chief of Police in September 2014. Although a new chief to the city and state, he has focused his early attention on understanding, developing and enhancing police community relationships, and understanding how the department functions. He has begun laying new foundations to improve policing, community outreach, collaborative problem solving and accountability within the department.
As its chief from September 2010 through August 2014, Chief Miller is widely credited with stabilizing the Greensboro PD by overhauling the disciplinary process and enhancing crime reduction focus and accountability throughout the organization and in its operations. He dramatically improved community outreach and satisfaction. He also developed a complaint mediation process to better resolve police/community conflict.
Chief Miller has presented a variety of training programs and lectures at the IACP, PERF, CALEA and other conferences throughout the past ten years. He serves on the IACP Training and Pre-Trial Reform Committees, and the North Carolina Commission on Racial and Ethnic Disparities. He has written two police management articles published separately by BJA and Criminal Justice Policy Review.